Large Planters & Outdoor Planters Selection Guide
Choosing The Right Planters For Your Project
Each development phase of a project brings new challenges in how best to define the character and features of your design, to bring your vision to life. Whether you are looking for a specific planter material, size, shape, style and color, or help with a custom planter design, use this guide to help find functional solutions for your project.
PLANTERS THAT MAKE THE PROJECTS
Choose from fiberglass, stone, wood, composite, and stainless steel commercial planters, all constructed with internal reinforcement for added stability, and outdoor-rated materials that make them durable and long-lasting even in freeze/thaw conditions and harsh climates. Fully customizable, these planters can be made in virtually any size, style, or finish—choose from 25 colors and four unique finishes, including real metal. Over-sized and large outdoor planters, and self-watering and watertight planter options are also available, along with brand- and logo-based designs and those that incorporate light and power sources. View the outdoor planters Project Gallery here.
With the breadth of our custom capabilities, we can create commercial planters for your project or business to your exact specifications. We also manufacture a wide array of companion products such as hanging baskets, water reservoirs, custom planter liners, outdoor furniture, and artificial foliage including hedges, green walls, and topiaries. To find answers to questions quickly, or for general information please contact us, or view the FAQs section on our Website.
Select the links below to jump to a topic of interest.
AESTHETICS MEET FUNCTIONALITY IN DURABLE MATERIALS
Choose from custom fiberglass planters or an assortment of other materials for your project: Fiberglass, GFRC, fiberstone, wood (including Cedar, Redwood and Reclaimed), PVC composite, and stainless steel. Landscape and design projects require different products based on their applications and environment. These are just two reasons why Planters Unlimited strives to offer a wide selection of large and custom planters built from a variety of materials. Our commercial-grade planters are all at once tough and attractive, with several designs to suit any aesthetic, from the contemporary to the traditional to the rustic. To that end, we offer custom planters using a wide variety of materials, to meet your project needs.

Commercial Fiberglass Planters
Fiberglass planters are made from a durable, lightweight material that can be made to look like wood, stone, and other materials. Long-lasting fiberglass planters are ideal for outdoor use, even in extreme climates like freeze/thaw conditions, as they won't crack, chip, or become otherwise damaged. Their lighter weight also makes them the perfect choice for rooftop gardens, balconies, decks, and other places where weight is a consideration. Our Fiberglass planters are available in a wide selection of shapes & colors, or fully customizable. Whether you are looking for a sleek and streamlined design, a faux wood finish with a real wood grain pattern, or a creative way to hide bollards, they can be custom-made to fit your application and design theme.
An architectural firm based in Missouri, came to us when their client was looking to add outdoor planters and extra seating to their rooftop pool area in St. Louis. The client loved the look of wood but was worried about its lifespan, as it would need to be extremely durable and weatherproof for outdoor use, especially in the St. Louis sometimes inclement weather. We recommended using our Madera Rectangular Commercial Planters, which look like wood, but are instead made from moisture-resistant, rot-proof fiberglass. And since fiberglass is also lighter in weight when compared to wood, these planters could be easily moved into place.
Features & Benefits: Fully customizable | Withstands extreme weather without damage | Reinforced interior for added durability | Built from commercial-grade materials | Moisture- and rot-resistant | Lighter in weight than stone or concrete
GFRC & Fiberstone Planters
Achieve the look and feel of natural stone with our GFRC and fiberstone planters. Our cast stone and weathered stone planters are made from GFRC, a composite mixture of concrete and fiberglass. Our fiberstone planters are made from a mix of glass fibers, polyester resins, and natural materials that when combined with our unique tooling capabilities achieves the look of carved stone at a fraction of the weight.
These high-quality industrial materials give our planters flexural strength that allows them to handle extreme temperatures without cracking or warping. Lighter in weight and more economical than stone, our GFRC and fiberstone planters are popular for high-traffic areas like shopping malls, hotel lobbies, and public courtyards.

Features & Benefits: Looks and feels like stone or concrete | Made from industrial-grade materials | Significantly lighter than concrete or stone planters | More economical than stone or concrete planters | Won't crack or warp in extreme climates | Ideal for high-traffic areas and heavy plant loads
Composite PVC Planters
Our composite planters look just like painted wood, but unlike wood they won't rot or suffer moisture damage. Made from solid-wall cellular PVC, a resilient material that is impervious to moisture and corrosion, these durable planters are especially popular for outdoor use, since they won't warp, crack, or become damaged even in extreme weather conditions. Simple yet contemporary in design, these white planters can be painted in any color to match or complement any design.
When San Diego's historic Hotel del Coronado needed an attractive and practical site furnishing solution for its sprawling resort property, we came to the rescue with just the right planter design. The perfect match for this all-wood hotel, our Coronado premier planters provide that time honored charm that makes traditional and rustic decor shine. We took it a step further by crafting these planters not from vulnerable timber but from a much more resilient and trustworthy material- composite PVC. With high-quality plastic commercial planters that look just like real handcrafted wood you get the best of both worlds, an outdoor modular site furnishing collection that with please even the most discerning viewer while also being extremely durable and low maintenance. Now you can take a tip from the Hotel del Coronado and bring this excellent planter collection to your landscape!
Features & Benefits: Made from commercial-grade cellular PVC | Won't absorb water; rot-proof | Clean, contemporary design | Leave white or paint any color
Wood Planters
Our wood planters are made from cedar and redwood, as well as reclaimed oak giving them natural beauty and rustic charm. These beauties are also inherently insect resistant, making them ideal for outdoor spaces like restaurant patios and rooftop gardens. And the size and strength of these planters make them a sturdy choice for heavier planting loads, like trees and shrubs with large root balls. Leave these lovely planters natural, or you can stain or paint them to the shade of your choice. Fiberglass liners and a clear sealant finish are also available as options for increasing planter life.
When the design team for University of California at San Diego were searching for planters that would convey an eco-friendly look and feel–they found the Muir Planter Collection. With that in mind, an existing concrete wall got the "green treatment" by adding our custom redwood planters. With an added twist, each planter was suspended by a unique bracket system. Ultimately, the wood planter boxes design was honored by the American Institute of Architects San Diego Chapter. With their deep well and tapered sides surrounded by 3 galvanized steel bands, our wooden planters were so well received at UCSD we now offer them to everyone.
Features & Benefits: Natural, rustic wood design | Made with cedar, redwood, recycled, and reclaimed wood Inherently insect-resistant for outdoor use | Handles heavy plant loads
Stainless Steel Planters
A mix of sleek, sophisticated design and sturdy construction, our stainless steel planters are made with a fiberglass core, which is then covered with a bottomless slip-over steel shell. These planters are not only stylish, but they are long-lasting even in outdoor applications with rain and snow, as they won't become damaged or rot from moisture. Available in a brushed or polished finish, these planters are the perfect complement to industrial and modern design themes.
Features & Benefits: Modern, industrial design | Fiberglass core for added durability | Made from industrial grade materials | Ideal for indoor and outdoor applications | Won't crack, warp, or rot in extreme weather
Illuminated Planters
Our illuminated planters are made with commercial-grade polyethylene, a material that makes it sturdy enough to live outside in the elements, and translucent enough to cast a warm glow. Functional as planters, they are also ideal for lighting up walkways, entryways, park paths, and other areas where you wish to light a path for foot traffic. Use them to draw the eye as a design accent, create mood lighting, and add security to otherwise dimly lit areas.
Features & Benefits: Made from commercial-grade polyethylene | Unique design combines functional planter with lighting | Functional lighting for walkways, entryways, and more | Mood/accent lighting for indoor and outdoor spaces
How can we help with your next project?
Need a specific size, shape, color, or finish for your commercial project? From concept to creation, we will help you find and create a solution that fits your project in both style and function. Upload a picture of your design concept and one of our design specialists will help bring your custom design to life.
SIZES FROM COMPACT TO COLOSSAL
Planters can be made in almost any size. For very large planter installations, units can be shipped in sections and installed together onsite. Planters Unlimited produces an abundance of planter sizes, from mere inches to multiple feet. While some stock styles are made in a finite size range, we can custom build to your exact specifications. Further, our team shines at helping with size selection for the space you're looking to fill. Our team is preeminent in consulting with landscape architects, interior designers and contractors to suggest the best planter size or size combinations to enhance locale, feature, and function. From hip and trendy to the sophisticated and urbane, we foster dialogue to complete the ambiance you want to create.
The Garment District Alliance in New York were looking for planters large and sturdy enough to house full-grown, 8-foot birch trees and their root systems and soil, along with other lush greenery. They needed planters to line this high-traffic area, and the planters needed to be made of a commercial-grade material that would be sturdy enough to handle a large volume of people and the inclement weather in New York. We suggested fiberglass planters, made more stable with custom metal reinforcements (typically not metal). See our solution for Transforming a Concrete Jungle into an Urban Oasis in our blog.
PLANTER SHAPES THAT BRING YOUR DESIGN TO LIFE
Many of our planter collections are available in different shapes, from round to rectangular. If you see a planter you like, but don't see the shape you need, we can make it!
When approached by a landscape contractor in Philadelphia to manufacture planters and accents for an interior courtyard, we left no stone unturned to deliver exactly what they were looking for. Incorporating approximately 80 planters in the outside space, the contractors requested manufacturing the planters using a fire-retardant resin, per their building requirements. The custom shaped Marek Planters were designed and built to the exact specifications, seamlessly integrating into the building's concrete-steel-glass curtain wall architectural features.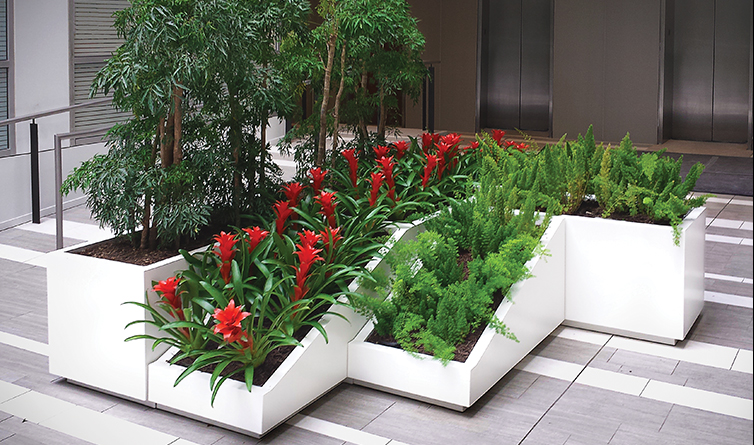 YOUR STYLE IS OUR SPECIALTY
Want to tweak the style of one of our planters—or create a whole new planter style for your next project? If you can dream it, we can build it!
A Luxury Condominium complex in Florida, contacted us when looking for a creative way to hide the three 18" wide by 30" tall bollards in the front of their building. Meant to provide both a physical and visual barrier that controlled traffic and protected the front of the building from cars, the bollards were functional but not particularly attractive. The solution? We proposed creating custom-made planters to place as "sleeves" over the bollards. This would match the building's attractive entrance while retaining the functionality of the bollards. For these bottomless slip-over planters, which were made using a custom mold in a modern spiral pattern, we designed them using lightweight yet durable fiberglass to create the Helix Planter.
As the industry leader in commercial planters and landscape products, we are the trusted resource for landscape architects, interior designers, contractors, and other trade professionals who want beautiful, durable designs for their projects. View our Project Gallery >
COLOR & FINISH OPTIONS
Choose from over 25 colors and four industrial-grade finishes for your planter. We can also color-match! Our finish selection includes: flat, semi-gloss, gloss, and sand. See all your options, or request a color sample here >
Standard Fiberglass and PVC colors & finishes
Premium Metallic Fiberglass & PVC finishes
Premium Amorecoat Real Metal Fiberglass & PVC finishes
GFRC, Cast Stone, Weathered Stone & Fiberstone finishes
Madera finishes
CUSTOMIZATION OPTIONS & ACCESSORIES
Our unparalleled customization capabilities and range of options allow you the freedom to create a solution that perfectly matches your application and design, including:
Oversized and Brand-Based Planters | Self-Watering Planters and Hanging Baskets | Waterproof, Watertight, and Custom-Sized Planter Liners | Planters with Illumination and Power Sources | Locking Casters, Matching Saucers, and Pre-Drilled Drainage Holes.
Fiberglass Planter Liner—Add an optional fiberglass planter liner to your existing planter in order to extend its life by protecting it from soil damage and rot with this water-resistant shell. Available with optional drainage holes.
Water Reservoir—Make any planter self-watering with a water reservoir, available in rectangular and round shapes and several sizes. Use two or more reservoirs for larger planters to keep them properly and evenly hydrated.
Pre-Drilled Drainage Holes—Order any planter with pre-drilled drainage holes to promote aerated soil and healthy plant growth.
Saucers—Add a matching saucer for your planter to contain excess water.
Feet—Optional planter feet can be added to any planter design, and customized in style and height.
Casters—Locking and non-locking casters are available, creating rolling planters that are easy to move in and out of place. These heavy-duty casters are outdoor-rated, sized to the planter, and placed in key support areas on the planter.
Forklift Knockouts—Order your planter with forklift knockouts for easy installation.
False Bottoms—A false bottom gives you several inches of planting space, providing the illusion of a larger planter but without the additional soil. False bottomed-planters can also be used to cover unsightly architectural elements (such as parking bollards).
Lighting Options—Incorporate lights into your planter design, including illuminated toe kicks and backlit cutouts for logos and other designs. Choose from fluorescent and LED lighting options, available in a variety of colors and with an optional timer.
Toe Kick—Add a stylish and functional toe kick to any planter; illuminated toe kicks are also an option.
Logos and Custom Designs—Customize your planter with a company logo or original design, including cutouts and backlit options. Additional techniques include: raised emblem applications, custom molded fiberglass logos, groove routed graphics, sandblasted logos and emblems, and many, many more.
Charging and Power Ports—We can incorporate charging and power ports (including USB) into almost all of our planter designs.
Artificial Plants—Order any planter pre-populated with lifelike plants and flowers from our sister company, Artificial Plants Unlimited.
Already made your design choice?
We can customize any planter in shape, size, color, and finish to fit your design needs. Call a design specialist today at 1-888-320-0626, or request a quote if you know the customization options your project requires.
COMPANION PRODUCTS

At Planters Unlimited, we design and manufacture commercial-grade outdoor planters along with a wide array of companion products such as hanging baskets, water reservoirs, planter liners, outdoor furniture, and artificial foliage including hedges, green walls, and topiaries.
CREATE A COLORFUL LANDSCAPE WITH HANGING BASKETS
Perfect for adding color and beauty to commercial spaces, our hanging baskets are often used for city beautification projects and as natural design accents for public parks, outdoor shopping areas, and theme parks. Our traditional English Garden hanging baskets are made from industrial-grade, powder-coated steel, and our modern fiberglass hanging baskets.
English Garden Hanging Baskets
An effective way to incorporate plant life into a range of commercial applications, our hanging baskets are ideal for cities, municipalities, and commercial spaces where a dramatic and bountiful display of flowers creates charm. Fiberglass liners provide an easy way to replace flowers and plants, and reservoirs help reduce watering frequency. Heavy-duty brackets ensure secure placement of hanging baskets to reduce liability.
It was a privilege when the head groundskeeper of a historic hospital located in Philadelphia approached us for some suggestions on beautifying an outdoor space on the hospital's sprawling grounds. Because the grounds of this iconic hospital are so beautiful, we wanted to introduce greenery, color, and texture without taking away from the historic beauty of the surrounding architecture. We suggested our English Garden Hanging Baskets, with their traditional style that would complement the hospital's colonial architecture. Made from heavy-gauge steel, these commercial-grade hanging planters were built to last even in tough weather, like freezing Philadelphia winters. Lined with 100% organic coconut coir liners, which aerate the soil and promote soil health, these rustic hanging planters are a great way to bring seasonal plants and color to an otherwise overwhelming sea of brick architecture. To hang the baskets that were ordered, we suggested the use our decorative wall-mount brackets, which are easy to install, sturdy, and rust resistant.
Fiberglass Hanging Baskets
Made from lightweight molded fiberglass, this commercial-grade hanging basket is designed for rugged outdoor use. And 24 different color and four finish options ensure that each large hanging basket makes a lovely presentation. Mount along city boulevards, mall walkways, or throughout the grounds of a resort.
Hanging Basket Brackets
Get years of durable beauty with commercial hanging basket brackets. Our selection of heavy-duty hanging basket brackets includes wall mount and pole-mount options. Powder coated in a textured black finish, each of these wrought iron hanging basket brackets are suited to exterior applications.
TO ORDER WROUGHT IRON HANGING BASKET BRACKETS FOR POSTS AND POLES: Choose from the standard shapes and sizes listed online or call for a custom order. Because we are the manufacturer, any commercial hanging basket bracket is within our capabilities.
Features & Benefits: Creates eye-catching displays of color | Beautifies city streets and historic districts | Mounts on walls, poles, and street lights | Custom sizes and self-watering options available | Pre-populated with artificial plants, as an option | Natural coconut coir liner or fiberglass insert option
Have questions, or would like a consultation on your city planning project?
Our knowledgeable design specialists are available to assist with additional questions on our customizable products. Learn more about creating a colorful landscape with hanging baskets here. We also offer individual consultation for your unique city planning or commercial design project.
PROTECT YOUR PLANTERS WITH CUSTOM FIBERGLASS LINERS
Fiberglass planter liners are built to protect planters from water and soil damage with their durable, rot-resistant fiberglass shell. These durable fiberglass liners are also available with optional drainage holes to promote healthy soil and plants. Available in several shapes and sizes, we can also build a custom liner to fit the size and shape of your planter. Liners can be mounted with drainage/plumbing fittings for connection to the landscape drainage system.
Features & Benefits: Protects planters from water and soil damage | Adds years to planter life | Keeps soil drained and rot-free | Custom sizes to fit any planter or application | Self-watering options available | Watertight option for use in water feature
WATER RESERVOIRS
Get your hanging baskets and planters to water themselves with our easy-to-add water reservoirs, available in several sizes and shapes to fit any container. Save time and money on maintenance costs for commercial projects, as these reservoirs will keep plants hydrated for weeks at a time! Easily add them to new or existing planters to make them instantly self-watering.
Large planter reservoirs are an easy add-on for making commercial planters self watering containers. To reduce maintenance costs, self watering planters are a huge asset in terms of cutting down on both time and money expenditure. Our large planter reservoirs are available in round or rectangular shapes, and Rootball or Donut Assembly models. Making planters self watering is easy with planter reservoir inserts to produce long-lasting irrigation without continuous maintenance.
Features & Benefits: Keeps planters and baskets hydrated for days to weeks | Saves money and time on maintenance for commercial projects | Hydrates evenly, wicking water up over time | Waters at root level, while preventing root rot | Sizes and shapes to fit any planter or basket | Great for planters in hard-to-reach, hard-to water areas.
LIVING WALLS & 3D PANELS
Get instant architectural appeal indoors or out with our living walls and 3D decorative wall panels. Choose the look you want—including manicured greenery (with zero care!), copper, tree bark, concrete, and wood panels—all of which are made from commercial-grade materials that provide years of use. Create an eye-catching accent wall or revamp all the walls in your hotel, restaurant, or office.
SPACE DIVIDERS
Create private spaces, direct foot traffic, or block/filter obscure unwanted views with one of our decorative space dividers. Designs include trellises pre-populated with gorgeous, lifelike artificial greenery and flowers, boxwood hedges and horsetail reeds in planters, and many more. Made from industrial-strength materials built to withstand high-traffic, all-weather environments, these space dividers can be placed indoors and out for a natural-looking and functional design accent.
SITE AMENITIES
Furnish properties in style with commercial furniture and supplies. The right site amenities are essential to the flow and utility of a property, from park benches for lounging to custom trash receptacles for waste disposal. Keeping a space clean, organized and usable is number one on our clients' lists, so it follows that we've assembled this comprehensive product selection including everything from hospitality recycling to decorative outdoor urns.
Site amenities are made from a variety of commercial-grade materials like fiberglass, composites, GFRC concrete, stainless steel, recycled plastics and wood. Find traditional wooden park benches or give commercial furniture a weatherproof edge in watertight fiberglass designs. Hospitality recycling and custom trash receptacles are also represented here to encourage responsible discards and cut down on litter. Pick individual products or plan an across-the-board site amenity solution, all from one convenient online store. Browse Site Amenities >
Planning Your Next Project? Let Us Help!
Customize Your Planter
Any Size | Any Style | Any Color | Any Finish
If you're working on a project that you need commercial-grade planters, hanging baskets, outdoor furniture, or other landscape solutions, we are here to help. Most of our planters can be custom-made to fit your application and design theme, or you can consult with one of our expert design specialists on a solution for a specific site requirement. Contact Us at 1-888-320-0626, or request a quote if you know the customization options your project requires.
ABOUT US
For over 30 years, we have been the first choice of the world's top hotels, resorts, restaurants, theme parks, spas, shopping centers, retailers, and commercial spaces. Planters Unlimited designs and manufactures products for the commercial environment, using industrial-grade materials that make them durable in high-traffic areas and all-weather conditions. Our planters are offered in a wide range of traditional and modern designs, making them both stylish and long-lasting. And because they are fully customizable in style, size, shape, color, and finish, there is a planter for every project or space.
As the industry leader in commercial planters and landscape products, we are the trusted resource for landscape architects, interior designers, contractors, and other trade professionals who want beautiful, durable designs for their projects. Learn more about Planters Unlimited commercial and residential landscape solutions, or view the FAQs section on our Website for frequently asked questions about our products and services.
Customizable Designs
Unlimited planter sizes, styles, colors, finishes, and options
Fiberglass, GFRC, wood, PVC, cast stone, and metal finishes
Durable Construction
Planters feature reinforced interiors and smooth finishes
Industrial-grade materials for all-weather planters and products
Competitive Pricing
High-quality products at competitive prices
Large volume discounts and quick turnaround